Golden Retriever Christmas Cards
Nothing is as precious as sending Golden Retriever Christmas cards to our family and friends.

Our Goldens are such a huge part of our lives that including them in the festivities is half the fun!

This selection of cards has something for everyone, from oh, how cute to humorous, to traditional Season's Greetings, and are sure to bring joy to your recipient's heart!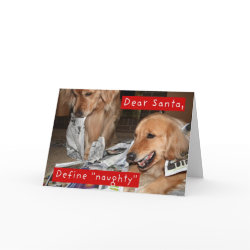 Define Naughty












For a bit of jubilant fashion, we have an adorable collection of Christmas collars.


And of course, we have some delicious doggie treats that Old Saint Nick might want to leave for them!



*******************************************************


Return to Holidays With Your Dogs


Return from Golden Retriever Christmas Cards to Homepage





Copyright 2008-2021 all-about-goldens.com
All Rights Reserved.

Information on this site is for educational purposes.
Consult your vet for advice about medical treatment for your Golden Retriever.
Disclosure Privacy Policy Contact Us